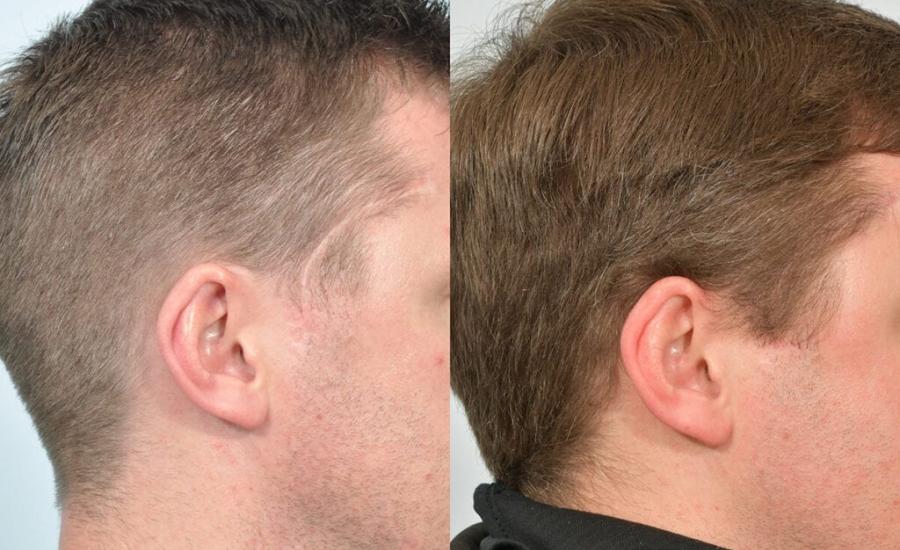 What is it?
Our hair transplant is the ideal treatment to restore your hair to its natural self. Our specialists are trained to perform Follicular Unit Extraction [FUE] which involves a minimally invasive procedure where hair follicles are harvested from the back of the patient's scalp. The procedure is more convenient, removes unnecessary concerns, and allows hair to grow more naturally.
Benefits of the procedure-
Permanent Hair Loss Solution
Quicker Healing Time
Improved Appearance
Minimal Maintenance
Risks of the procedure-
Scalp Swelling
Patchy Hair
Infection
Recovery
While the placement of the FUE hair implants takes 4-10 hours, depending on the number of grafts needed and placed, the initial recovery of the FUE hair transplant lasts just 2-3 days. Recovery is usually smooth with most patients and generally painless. Redness and discomfort, if observed will subside in a day or two.
The success of the procedure-
Hair growth takes time, so some patience may be required. Everyone's hair grows at different rates, but most patients begin to see hair growth at four to eight months. Final results can take 12 to 18 months to see.
FAQ
Who is an ideal candidate for a hair transplant?

Hair transplantation is an ideal procedure for men or women who have genetic hair loss or hair loss through a health condition. It is essential for a candidate to have realistic expectations concerning the outcome of the entire process. 

What could be the cause of my hair loss?

In most cases, hair loss is hereditary. Hereditary hair loss begins in the 20s and occurs in both men and women

 Other causes can include:

Autoimmune disorders like alopecia areata or lupus

Skin conditions like psoriasis or suborreheic dermatitis

Iron deficiency (anemia)

Certain medications

A major event like surgery, pregnancy, or dramatic weight loss

Excessive heat or styling

Can you shower after a hair transplant?

You can shower almost immediately, but avoid shampooing or vigorous scrubbing for at least a few days. You can gently wash your hair after four days and resume normal shampooing after seven days.

Is the hair transplant permanent?

Yes! The transplanted hair is not programmed to fall out, hence the hair placed in balding areas will remain permanently.